Cover Reveal: Two Truths and a Lie by April Henry
Ooohh!! I love isolation thrillers! For those of you less familiar or embedded in the horror genre, and isolation thriller is a thriller where the would-be victims are… isolated. Complex, I know. But still, it's one of my favorite types of thrillers because there's never that question of "Why don't you just call the police?" or "Why don't you just leave?" Spoiler alert, its because you can't! And really, is there anything more terrifying than being trapped with a killer? Now throw in a creepy hotel, a stranded troupe of teen actors, and a group of strangers from another school and you've got yourself the recipe for terror – and Two Truths and a Lie from Christy Ottaviano Books! But enough of my yammering, let's get to that cover!

Cover design by: Karina Granda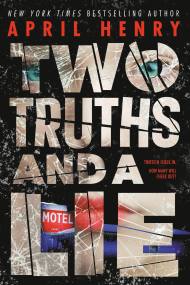 A group of teens are trapped in an old motel with a murderer in this chilling YA mystery by New York Times bestselling author April Henry.

Nell has always wanted to be an actor, but she doubts her ability. As a member of her school's theater program, she prefers working backstage. On the way to a contest, an unexpected blizzard strands her acting troupe in a creepy motel. Soon they meet a group of strangers from another high school—including the mysterious and handsome Knox, who insists they play the game Two Truths and a Lie. When it's Nell's turn, she draws a slip of paper written in unfamiliar handwriting:
 
I like to watch people die.
I've lost count of how many people I've killed.
 
Suddenly a night of harmless fun turns into a matter of life and death. As guests go missing, it becomes clear that a murderer is hiding in their midst ready to strike again. In a room full of liars and performers, the truth is never quite what it seems. Nell is going to have to act like her life depends on it—because it does.
---
About the Author
April Henry is the New York Times–bestselling author of many acclaimed mysteries for adults and young adults, including the YA novels Girl, Stolen; The Night She Disappeared, The Girl Who Was Supposed to Die, The Girl I Used to Be, which was nominated for an Edgar Award and won the Anthony Award for Best YA Mystery; Count All Her Bones, The Lonely Dead, Run, Hide, Fight Back, The Girl in the White Van, Playing with Fire, Eyes of the Forest, The Body in the Woods and Blood Will Tell, the first two books in the Point Last Seen series. She lives in Oregon. April invites you to visit her at aprilhenry.com.