Cover Reveal: Dead End Girls by Wendy Heard
Imagine if Thelma and Louise were about two teen girls falling in love? Now imagine if they committed more and more complex murders a la Heathers. Well, if that sounds like catnip to your little book loving ears, look no further than Dead End Girls from Christy Ottaviano Books! It's the story of Maude and Frankie, two girls running away from home, killing people, and falling in love – not necessarily in that order. It's a blood-soaked, sexy thrill ride and now I've got the cover just for you!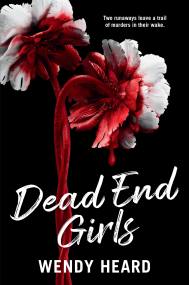 Determined to escape suffocating expectations and menacing families, two desperate teens fake their own deaths in this queer contemporary thriller perfect for fans of The Twin and Five Survive.​

In one week, Maude will be dead. At least, that's what she wants everyone to think. After years of research, Maude has decided to fake her own death. She's figured out the how, the when, the where, and who will help her unsuspectingly. The why is complex: revenge, partly. Her terrible parents deserve this. But there's also 'l'appel du vide,' the call of the void, that beckons her toward a new life where she will be tied to no one, free and adrift. Then Frankie, a step-cousin she barely knows, figures out what she's plotting, and the plan seems like it's ruined. Except Frankie doesn't want to rat her out. Frankie wants in.

The girls vault into the unknown, risking everything for a new and limitless life. But there are some things you can never run away from. What if the poison is not in the soil, but in the roots? This pulse-pounding thriller offers a nuanced exploration of identity, freedom, and falling in love while your world falls apart.

"A clever page-turner that I couldn't put down."—Natasha Preston, #1 New York Times Bestselling Author​

A Rainbow Book List Selection
A YALSA Amazing Audiobook for Young Adults
A YALSA Quick Pick for Reluctant Young Adult Readers
 
About the Author
Wendy Heard is the author of the acclaimed YA novel She's Too Pretty to Burn, which Kirkus Reviews praised as "a wild and satisfying romp" in a starred review, as well as two adult thrillers: The Kill Club and Hunting Annabelle. She is a member of Sisters in Crime, International Thriller Writers, and Mystery Writers of America, and is a contributor at Crimereads.com and Writer's Digest. Wendy lives in Los Angeles, California.